I am Ukrainian.

And while I have only discussed this partially with one of my good friends, @theorangepancake, I think I just need to get this off of my chest.

We are NOT neo-nazis, as many Tumblr users have seemed to make the assumption throught #Ukraine posts. We are…
Hairstyles of Tang Dynasty Women


"In early Tang, hair ornaments were rather simple, but during the reign of Emperor Taizong the buns got higher and higher and the number of styles grew." (5000 Years of Chinese Costume, 77)

"During the earlier years of Emperor Xuanzong's rule, the Tartar hat was fashionable, but in the later years…many women opted for switch buns (also called 'false buns'). In late Tang and the Five Dynasties, the high buns were often decorated with different kinds of flowers." (5000 Years of Chinese Costume, 77)

"Ponytails were also quite popular among a small number of aristocratic ladies during the years of Tian Bao (Xuangzong's reign). (5000 Years of Chinese Costume, pg. 84)


"Common women…preferred the 'tossing-up bun', with the hair at the temples embracing the buns were made higher and higher, and were decorated with flowers, which heralded the popularity of the flowery hats of the early Song Dynasty." (5000 Years of Chinese Costume, pg. 84 )

Makeup


"Women of the Tang Dynasty paid particular attention to facial appearance, and the application of powder or even rouge was common practice. Some women's foreheads were painted dark yellow and the dai (a kind of dark blue pigment) was used to paint their eyebrows into different shapes that were called dai mei(painted eyebrows) in general." (5000 Years of Chinese Costume, 77)

"…between the brows there was a colourful decoration called hua dian, which was made of specks of gold, silver and emerald feather. Some women painted their cheeks with motifs such as a moon or a coin, and their lips were also rouged." (5000 Years of Chinese Costume, 77)

"[The hua dian was] said to have originated in the Southern and Northern Dynasties. […] In the Tang Dynasty, hua dian was either painted or made of tiny metal pieces." (5000 Years of Chinese Costume, pg. 86)
Jewels I found while studying pre Middle Age art history:

Confused citizen

Confused angels

Confused "Why do I have two hands?"

Confused goat

Confused Beatles
okay so

in arthurian legend

literally the entire first half of the perceval/peredur story is perceval doing all these amazing knightly things and then sending the people he beats back to arthur's court with the message "oh yeah lol so i beat these people in your honour but i'm not coming to your court until i avenge the insult kay did to these people the first time i was there"

and arthur just turning to kay and being like "KAY DAMMIT LOOK WHAT YOU DID"

naturally this becomes 100000% funnier when you imagine arturia doing it

it's hard having an ill-tempered older brother as your seneschal

it's hard and no one understands

(procrastinating on essays lyfe)
Phantump - According to old tales, these Pokémon are stumps possessed by the spirits of children who died while lost in the forest.

Banette - A doll that became a Pokémon over its grudge from being junked. It seeks the child that disowned it.

Based on this concept…

http://kerokeroma.tumblr.com/post/66630221321/after-i-drew-this-picture-a-lot-of-people-who
YEAH SO I FINISHED MY WORK

in like five hours I'm so pleased

and yeah, our homework was basically "DRAW FANART USING BRUSH, SCAN IT INTO PHOTOSHOP, ADD HALFTONES, AND SUBMIT IT"

you got a problem?

from my personal!

remember when I used to update this blog? oops…
I'm organizing a giveaway for brand new users who joined us on September 3rd. People who donate will be given a chance to win a breed change or a gene change scroll. Reblogs or reposts to spread the word would be appreciated!
detectivelock asked: Could I have a lair review? Mistwalker #4021, if you're not too busy. Don't mind page 2, that's all dragons I need to get rid of.
Lair review for Mistwalker.
First, let me get the negatives out of the way. Please get Altair some texture. Right now, he looks so neon it's ready to hurt my eyes. Perhaps clown or speckle?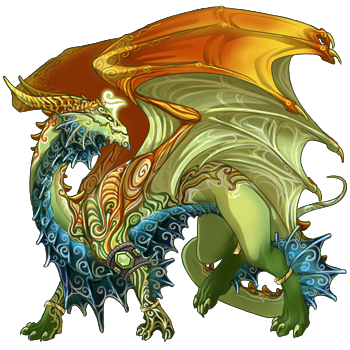 Now, for the good part. Your lair, again, has so many lovely dragons that I have a hard time picking favorites! However, if I really had to say, I'd pick Darkbriar. Her headress serves to accentuate those lovely green shimmer wings, which are already a great match for her dark body.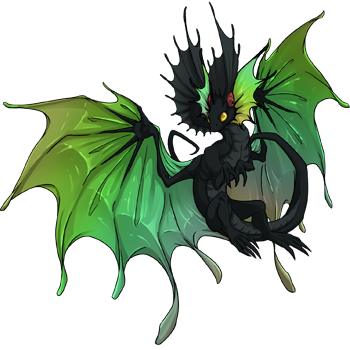 Clothes make the man! Or at least they do Anima! He might be all basic, but his accessories make him so beautiful. I'd say keep him plain because otherwise, he might get too busy. However, if you have to gene him, I'd go with eyespots to match his goggles and wing decorations.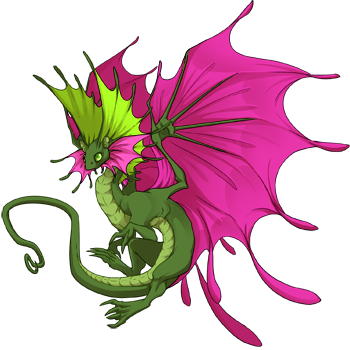 Barcarole, with his steel/teal color scheme, reminds me of the ocean. And his pearlcatcher breed only makes me think of the ocean even more. He's really beautiful. His iridescent pattern, combined with his armor, makes him look strong but noble, like a knight.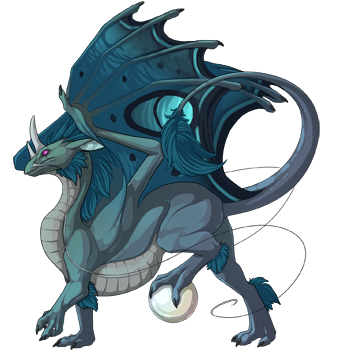 Bittersweet here is more adorable than pretty. With his goggles and scarf, he looks like such a zany little guy!
Boreas and Nocturne are adorable. Their color scheme and patterns really bring out their beautiful eyes.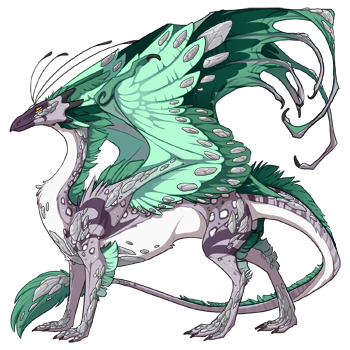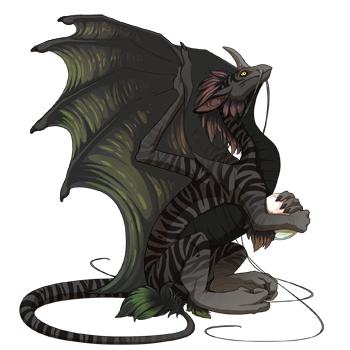 Finally, I know page 2 is for dragons you're getting rid of, but I'm still marveling at that final little Fae. The freckle on his green wings makes him look like a tree with light shining through the leaves.
Again, wait a little for me to draw your dragon and remove this line.
theodinn-deactivated20130827 asked: Oh! Lair reviews! Yes please! Sammidolittle #25556~
Lair Review for Sammidolittle!
Your Lair is proof that less is more! While you don't have very many dragons, the ones you do have all look lovely. I'm also digging the Greek Mythology name scheme you have and the corresponding descriptions you gave to them.
It's hard to pick a favorite, but if I had to, I would pick Hecate. Seriously, everything about her is so perfect that I don't think you should change her at all. She's not just a beautiful dragon with a wardrobe that matches her coloring, but she's a very good reflection on the mythological Hecate.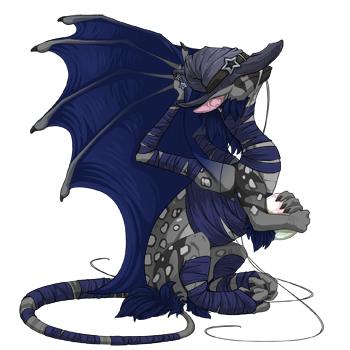 Himeros is a close second. I like the way that the hood matches his coloring to make him seem mysterious and a little spooky. Maybe a little shimmer on his wings to add to the mysterious aura he has?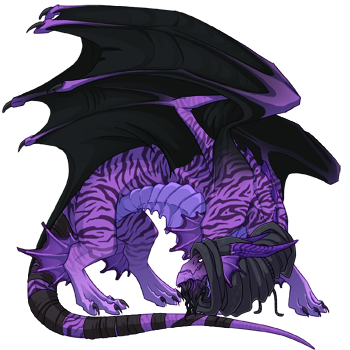 Aegea here has very warm, autumn-y colors. I'm simply in love with her palette. Even her familiar matches. Again, so beautiful I wouldn't consider any changes.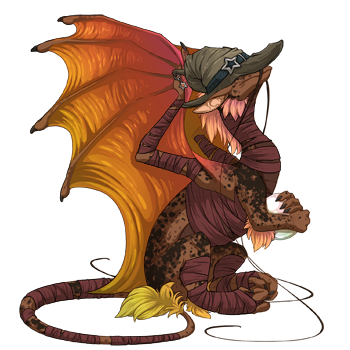 And, of course, there's Olympos. His double speckled scheme makes me think of the night sky and snow that's been mottled with animal footprints.
For changes, I think Cerberus could do with some texture. I think Speckle would work best, followed by Tiger. (Personally with the way you've decked him out I'd call him more of a Hephaestus than a Cerberus but that's just me.)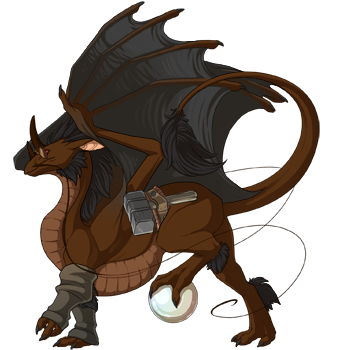 Also, maybe give Pandora a breed change? Another pearlcatcher, perhaps, to symbolize how the mythological Pandora is attached to a certain item? Or another spiral because I've seen her patterns look great on spirals?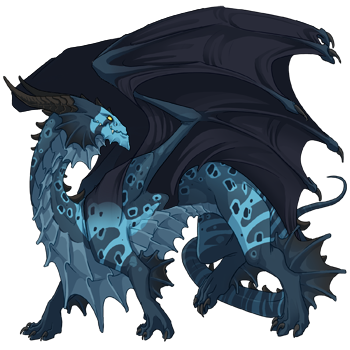 As promised, I've drawn my favorite, Hecate. I tried to keep her "witch" theme.